(Limited edition, 78 copies!)

Hop on Gekko to transport yourself out in the space, to that pseudo-natural place you didn't know existed these days. You have probably heard those kind of sounds on old vinyl, or when your drunk & sentimental grandpa yelled about it! But still you have no idea what he was talking about..?
It's about an 'echo' or a'reverb' effect; the fantastic sound/feeling the old noisy man tried to describe was most likely generated by a magnetic drum machine or a tape echo!

With that in mind, Himmelstrutz Gekko was born, to add a natural space, a not so clean, jumping lizardish sound to get heard in a mix and to make the creation of music more inspiring.Yeah, that's an appropriate way to describe Gekko—musical & inspiring!

Added to that Gekko is not just another "blue/soft/analog sounding" echo/delay. It's worse. And louder, if you want...

Controls
Mix—Echo level ('dry' to 'wet')
Delay—echo time (25-450 mS)
Repeat—echo repeat(s) (1 to infinite/oscillation)
Glaze—echo character/Lofi/Normal/Soft (3 way toggle switch)
Wobble—echo repeat (playing level) variation (ON/OFF 2 way toggle switch)
Volume—as loud as you ever want!
GIMME—true bypass switching
With the Delay you set the time of the echo. The Mix adjusts the level of the echo and the Repeat controls the echo repeats/feedback, which in Gekko is a thing of its own! With 2 toggle switches, Glaze and Wobble, you adjust the character of the echo-cho-hoi-oi-i sound, to make it more or less Himmelstrutzilised and with the Volume you adjust the level of the mixed echo/dry signal, which means you can boost the output, echo/dry, up to +15 dB!

Conclusion: If you think delays/echoes these days may be all too soft/kind/sterile it could be a good idea to check out Gekko! Or if you simply dislike any echo sounds but love a good sounding boost—turn down the Mix, turn up the Volume and rock it!

If this ain't enough for your dirty sound needs—go for a Fetto.
Details
All original and handmade Himmelstrutz design. Digital delay processing with a genuine Himmelstruzilised analog audio path. How good isn't that!
Mechanical (true) bypass switching, ON indicated with a blue LED
External knobs: 'Mix/Delay/Repeat/Volume (+15 dB boost max)
External toggles: 'Glaze' & 'Wobble' (echo frequency/character tuners)
Delay (echo) time: approx. 25-450 mS
Power Consumption: 9-12 V DC/25-40 mA. Powered with external AC Adapter (Optional): 9-12 V DC, center-pin negative (Straight plug, BOSS Standard connection, regulated power supply)
Dimensions (L/W/H): 111,6/61,6/50,0 mm (4,37/2,4/1,9 In)
Weight: 450 grams (0,99 lbs)
Colour, finish: May vary depending on season and reason. April 2013: 'Stockholm White' (RAL 9010)
Compatibility
Even if Gekko sounds good by itself it also works well with all other Himmelstrutz pedals—stacked in whatever order you prefer. We strongly recommend at least one of the Fetto pedals in company with Gekko!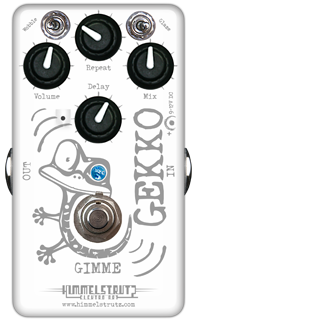 Uuyyyyyy ese diseño me latio bastante!!
pon un video Chaloooooooo

el Vie 14 Jun - 9:06
Reputación del mensaje :100% (1 voto)
No me late mucho el diseño pero se ve interesante eso de un echo con booster. El 70% que uso el booster para solear le meto delay. Seria
se ven interesantes esos pedales eee
Está a gusto el pedalito, me encantó el diseño y excelente sonido
el Vie 26 Jul - 0:28
Reputación del mensaje :100% (1 voto)
Nomás le cambiaba las perillas, pero de que está chulo lo está.

Permisos de este foro:
No puedes
responder a temas en este foro.