el Mar 11 Nov - 15:51
Reputación del mensaje :100% (1 voto)
Gibson lanza este modelo que es lo más sexy que les he visto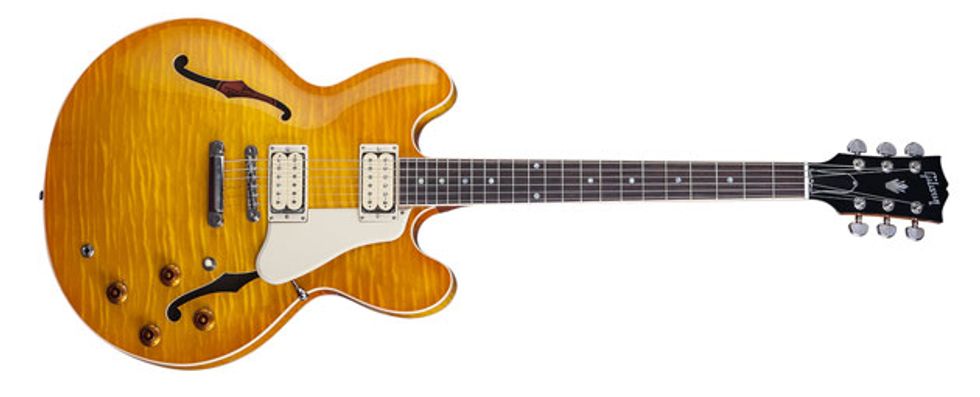 The original ES-335 in natural, vintage sunburst, or cherry finish is a classic for both style and tone, but there was rarely much figured wood in the equation—or at least the kind of flamed maple that gives its solid-bodied cousin the Les Paul such elevated beauty. Enter the ES-335 Lemon Burst from Gibson Memphis, a guitar that reclaims a slice of lusciously faded elegance for the legendary semi-acoustic, while retaining all of the key ingredients of a killer dot-neck ES-335. Dressed in an irresistible rendition of the sun-drenched finish that's so popular on many Les Pauls, the ES-335 Lemon Burst pulls no punches in the tone department, giving you everything you'd expect from the world's most versatile electric guitar.

The ES-335 Lemon Burst from Gibson Memphis recreates the feel of the '50s original. A laminated maple top and back (with Grade-AAA outer face on the top) are joined to a solid maple core with carved spruce braces and basswood rim liners. The quartersawn mahogany neck is glued in, and carved in a comfortable, slim profile that measures .800" at the 1st fret and .875" at the 12th. The one-piece rosewood fingerboard has cream binding and pearl dot inlays, like the revered early-era ES-335s. To complement the gorgeous looks while ensuring full PAF-certified tone, a pair of DiMarzio Double Cream DP103 humbuckers with no covers takes pickup duties, wired through the traditional four-knob control section with Switchcraft™ three-way switch. And legendary Gibson Memphis craftsmanship plus a final set-up on the PLEK ensures that it all plays superbly. Put it all together and it's a stunning sounding semi-acoustic, with the looks to go up against the most elegant guitars out there.
Comprala y se el primero en subir un demo en youtube
muy bella guitarra, en cuanto anda esta guitarrota???
muy bonita lira, ya llegara!!
Precio de lista 3690 dlls

Permisos de este foro:
No puedes
responder a temas en este foro.