el Dom 16 Nov - 18:45
Reputación del mensaje :100% (3 votos)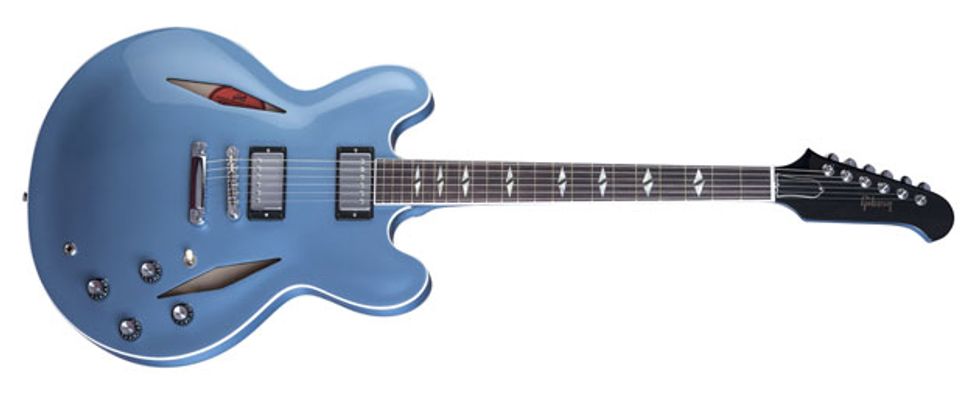 In his successful segue from drummer with legendary Nirvana to guitarist, singer and songwriter with Foo Fighters, Dave Grohl has eternally secured his reputation as one of the most influential alternative rockers of our time. Dave's choice of electric guitar—surprising to some, a traditionally inspired semi-acoustic—further emphasizes his individuality, and declares his dedication to tone, style, and classic Gibson quality. To celebrate Dave's achievements, Gibson Memphis introduces the Dave Grohl ES-335, a guitar made in the tradition of the great thinline vintage semi-acoustics, with Dave's signature apparent from every angle in its distinctive looks, sound and feel.
Built to the specs of a great vintage ES-335, the Dave Grohl signature model also exhibits visual characteristics of the Trini Lopez model of the '60s, a guitar that Dave has played on several Foo Fighter tours and recordings. The foundation follows the familiar laminated maple top and back, with a solid maple core with cedar rim liners, with characteristic diamond f-holes in the guitar's top like the Trini model that inspired it. The mahogany neck is glued in with a historic large mortise-and-tenon joint, and has a hand-selected dark, one-piece rosewood fingerboard with acrylic split-diamond inlays and a Corian nut cut to perfection on our PLEK. A superb playing feel is assured by a neck profile with optimum comfort, with stand-out looks from the striking Firebird-style six-a-side headstock. Stellar tone from mean to mellow is assured by a pair of Dave's preferred Burstbucker pickups, a #2 in the neck and a hotter #3 in the bridge, with the classic control assembly and hardware complement. This limited edition sees 200 available in Pelham Blue Metallic and 400 in Gold Metallic finish.
el Mar 2 Dic - 12:20
Reputación del mensaje :100% (1 voto)
ufff a mi si me gusta esta guitarra
Este modelo sí me gustó bastante, pero como su homóloga demasiado incómoda para mí, por ello me he privado también de mi Falcón.

Permisos de este foro:
No puedes
responder a temas en este foro.