el Lun 4 Mayo - 18:48
Reputación del mensaje :100% (1 voto)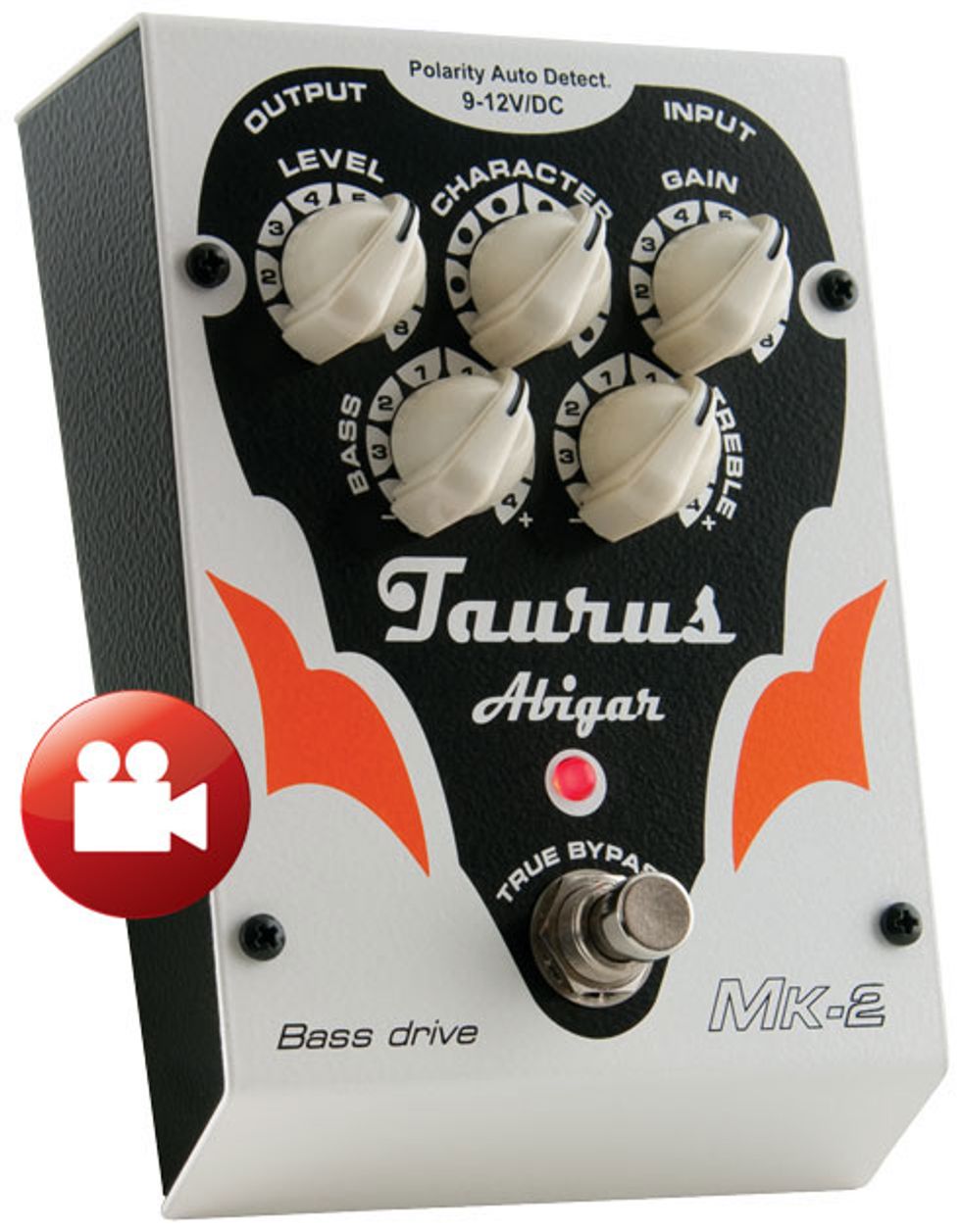 https://soundcloud.com/premierguitar/taurus-abigar-mk-2-review

The Abigar Mk-2 is a recent addition to Taurus Amplification's White Line series. The first-generation version was designed to apply brawny, tube-like overdrive while retaining as much punch and clarity as possible. The redesigned Mk-2 is smaller and lighter, and it adds some circuit tweaks.

Wild Bull
The Mk-2's controls are straightforward: volume and gain knobs, plus bass and treble cut/boost controls. But the pedal's secret weapon is its character knob, which sweeps between contrasting vintage and modern voicings, providing interesting blended-overdrive tones.

The sensitivity of the EQ controls is off the charts. Slight adjustments unlock a wealth of contrasting tones.
The pedal's analog overdrive circuit works in tandem with a power section designed for sensitivity to voltage changes. The Mk-2 has no 9V battery option, but accepts both center-positive and center-negative adapter cables. If the voltage drops below 6V, the pedal automatically bypasses itself. Meanwhile, it can handle power up to 12V, which gives the pedal great dynamic range. An internal voltage doubler means the pedal can generate wildly dynamic overdrive tones up to a whopping 24V (when using a 12V power supply).

Shut Up and Drive
Playing a Fender P, Verellen Meatsmoke head, and an Ampeg 8x10 cab, I started with the Mk-2's gain, treble, and bass knobs at noon, with level at 10 o'clock for unity gain, and the character knob fully counter-clockwise for 100% vintage voicing. The overall character was Bassman-like, with snappy midrange, low-end warmth, and a just a tinge of grit. The overdrive's response was amp-like as well. When I attacked the strings harder, the overdrive growled more forcefully and grew louder in the mix.

The sensitivity of the EQ controls is off the charts. Slight adjustments unlock a wealth of contrasting tones. The bass control in particular has a noticeable—and in some cases, extreme—effect on not just the lows, but also the midrange's shape and presence. It was a breeze dialing in tight, punchy slap tones by lowering the bass and increasing the treble. Meanwhile, pushing the bass control past 1 o'clock provides boomy, scooped tones.

The character control's modern side is cleaner and more defined. When it's maxed clockwise, the low end grows deeper and tighter, and highs respond to picking with an authoritative snap without diminishing the EQ's range and responsiveness. In fact, the modern setting improves the effectiveness of the extreme high and low ranges. Setting the bass knob to 2 o'clock and diming the treble control evokes the aggressive low-end rumble and high fidelity of a Mesa/Boogie Bass 400+.

One common gripe bassists have with overdrive and distortion pedals is the way they can muffle clarity and dynamics at high-gain settings. The Abigar's restrained grit ensures that this never becomes a problem. Even with the gain knob maxed, the pedal delivers clear, authoritative drive that doesn't overpower the unaffected dry sound. Fantastic rock and metal tone live here, with the perfect balance of grind, low-end beef, and snarling highs.

The Verdict
The Taurus Abigar Mk-2 is a simple but excellent overdrive that won't bury your foundation tone under piles of mushy gain. Its EQ is phenomenal, and blendable modern and vintage voicings offer a store of usable tones. The Mk-2's relatively moderate gain levels may not satisfy bassists aiming for huge walls of sound, but the pedal's clarity, definition, and sensitivity make it worthy of serious consideration.

https://youtu.be/j9jg3Ka7Was
es una verdadera belleza este pedal, no soy bajista pero definitivamente cuando compre un bajo buscare q
algo como esto !!!!
Not bad, aunque termino inclinándome por un Aguilar
Sonoramente no deja de hacerme recordar al Bass Fuzz de Wren and Cuff

Permisos de este foro:
No puedes
responder a temas en este foro.